FELIXâ"¢ Mobile Work Assistant

"Get to work!" â"¢
FELIXâ"¢ puts step-by-step prompts
in your own words
right in your workers' hands.
With FELIXâ"¢ your staff records the completion of work on the floor or in the field, as it happens, all without the need for work tickets, log sheets, or other paperwork.
It's like having a supervisor on every assignment.
Pass your next audit with flying colors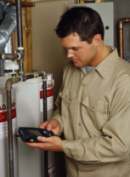 FELIX

â"¢

ensures accountability, and won't let your workers skip important steps.
FELIX

â"¢

records who, what, when, and where automatically!
Responding to audits is a snap. No more digging through file cabinets and log books.
All Historical data is at your fingertips!
FELIXâ"¢ keeps you running smoothly
Let FELIX

â"¢

schedule, remind, and manage routine tasks and unplanned work
Set acceptable min/max ranges for readings
FELIX

â"¢

"red flags" exceptions and discrepancies, and alerts you to potential problems
Use FELIX

â"¢

to see trends, and compare data over time and across systems