CODE DEPENDENT is a bar code, mobile computing, and RFID newsletter to help you stay informed about the rapidly changing data collection industry. We welcome your comments, questions, and suggestions.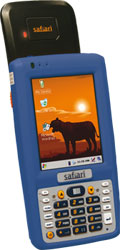 Two Technologies has added a compact unit to their line of rugged mobile computers. The Safari is small and light, yet more durable than many larger, heavier hand helds.
The Safari is protected against dust and rain. The device can survive 5-foot drops to concrete and handle a wide range of operating temperatures. The standard battery lasts up to 8 hours of heavy use, and if that is not enough, an optional high capacity battery lasts up to 10 hours.
With its rugged design and long battery life, the Safari is perfectly suited for a wide variety of indoor and outdoor applications including law enforcement, agriculture, environmental testing, security, medical/hospital, hospitality and more. The Safari is lightweight and fits in your pocket, or purchase the convenient arm strap for hands-free use.
Two Technologies had engineered an expansion pack for the Safari, for adding capabilities such as GPS, RFID, and even access control.
Gone are the days of boring grey or black for a hand held. Two Technologies allows you to customize the case color and keypad graphics. Add your company logo or choose from a variety of case colors. (I recommend purple!)
Great for: Industrial applications with special requirements.
We like: Rugged but extremely lightweight, expansion pack.
On the other hand: Changing the battery can be awkward. Only 2 dedicated arrow keys.
MSRP: $1,920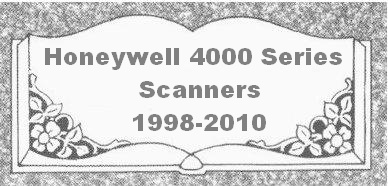 Honeywell has introduced the new Xenon series of area-imaging scanners. To make room for the new line, they have begun phasing out some older products. End-of-Life is near for many 4000-series and Focus scanners.
Contact Purple Oak at 847-965-8771 for details.

ORBIS, a subsidiary of Menasha Corporation, is a manufacturer of reusable plastic containers (RPCs) for material handing, agricultural, automotive, and industrial applications. In addition, ORBIS offers value-added services such as logistics, cleaning, maintenance, and repair of RPCs after use. Nationally, they ship and receive hundreds of thousands of containers. RPCs circulate between suppliers, factories, and ORBIS service centers. A container's handling cycle may span days, weeks, or even months.
Problem:
A reliable RPC tracking system was essential to ensure efficiency and to provide accurate inventory figures. Management needed clear visibility of all RPC transactions to bill accordingly. A bar code solution that performs shipping, receiving, and administrative functions was essential to service center operations.

Solution:
Purple Oak offered LXE MX7 mobile computers and custom-built RPC inventory data collection software. The MX7 was chosen for its ruggedness and its potential for future applications. Each RPC is bar coded with a unique ID number on a durable, permanent tag. The mobile software collects shipping and receiving transactions in the ORBIS service center, and interfaces with ORBIS's enterprise RPC management software system.
Success:

ORBIS has visibility of all RPC's in their control, and a complete history of each one.
The system captures accurate RPC movement quickly and cheaply. Handwriting and manual data entry are eliminated for better time management.
Information is directly available to clients over the web. This allows ORBIS to serve their clients better for increased customer satisfaction.
Billing discrepancies are eliminated.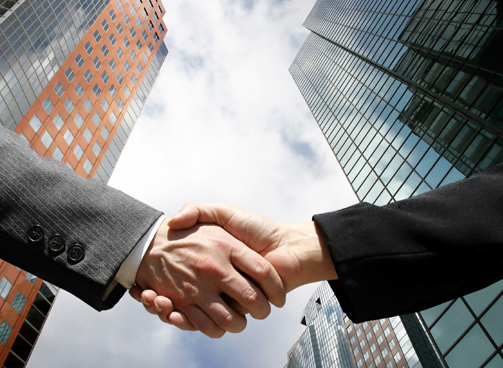 Have some free time this summer? Looking to meet new people to network with? Check out these conferences and conventions.
RSPA Summer Convention and Expo
7/25-28/2010 in Las Vegas, NV

National Sports Safety and Security Conference and Exhibition
8/2-8/4/2010 in New Orleans, LA

CompTIA Breakaway 2010
8/9-8/12/2010 in San Antonio, CA

International Association of Fire Chiefs - Fire Rescue International 2010
8/24-8/28/2010 in Chicago, IL

Assembly & Automation Technology Expo
9/28-9/30/2010 in Rosemont, IL

ASIS 2010, 56TH Annual Seminar and Exhibits
10/12-10/15/2010 in Dallas, TX

The Assembly Summit
10/18-10/20/2010 in Clearwater Beach, FL

Purple Oak designs bar code and mobile data collection solutions for manufacturing, warehousing and distribution, and corporate business operations nationwide. We develop software, design bar code labels, perform site surveys, install wireless networks, provide integration services, and sell bar code equipment. Our customers range from Fortune 500 companies to small businesses desiring to improve the efficiency and accuracy of their data collection operations in all areas.

Pay us a virtual visit at Purple Oak
Music
By Laura Schenke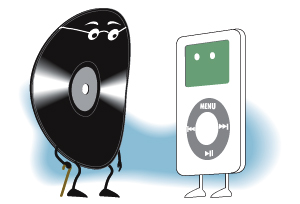 Music not only gets me through the workday but also the aggravating commute home on the Kennedy during rush hour.
Thank goodness for all the technology these days allowing us to listen to music through different mediums.
I have my trusty iPod that has somewhere in the ballpark of 5,000 songs, from pop to country to R&B and even my favorite songs to sing the shower.
My smartphone allows me to download the Pandora app. I search for an artist, album, or any song and Pandora generates a playlist with similar songs. It's genius (and free)!
There is also an app for I Heart Radio. Take the radio everywhere without having an AM/FM tuner. I Heart Radio streams radio stations over the Internet. So you can listen to your favorite stations from all over the country.
Speaking of radios, don't forget to turn on your radio on August 20th to celebrate National Radio Day! Even send an E-Card to remind all your friends and family.
The Billboard charts track all the hits throughout the decades. Prince's "Kiss" was number one the day I was born. What was yours?
I encourage you to listen to your favorite music today. Go to a concert, dance the Macarena, or even belt out YOUR favorite song in the shower (you'll sound like the next American Idol!)